Earthquake Relief Iniciative
Dear Friends,

Saturday April 16, a massive 7.8 magnitude earthquake hit Ecuador and many aftershocks. The quake flattened buildings and bridges, and buckled highways. The death toll is at 654, with more than 4,600 injured, 116 people missing, 25,376 homeless and 113 rescued, 4,430 buildings destroyed, 2,740 buildings damaged, and 281 schools were affected, approximately 3 billion dollars of damage.  The cities of Manta, Portoviejo and Pedernales, saw the most devastation, but damage was widespread throughout the northern and central coast. The devastating quake struck as torrential rain from El Niño ponded the coast adding to losses caused by several active volcanoes that continue to spew ash on cities and farmland.  All of this comes on top of the current grave financial crisis triggered by low oil prices. Without a doubt Ecuador faces a long and difficult road to recovery.

We are coordinating relief efforts though our Verbo churches to help the victims of the earthquakes starting with our church members in Manta.  The Manta church's rented facility was severely damaged and they will have to meet under tents. Several of their church members are now homeless. On Wednesday we sent our first team with supplies and a large tent. They are assessing the situation and along with Pastor Fabian Molina of Manta, will develop a plan for our long and short-term relief efforts. Rocio Castillo was in Rocafuerte, Esmeraldas when the earthquake hit. We know she is safe but because of poor communications in the area, we are still unsure of the extent of the damage there.

With our church in the province of El Oro, we have been building low cost housing for the poor during the last year. We have completed 10 houses so far, and working with our donors, will be taking this experience to provide housing in the affected areas.

It is an opportune time for the church to fulfill its calling as an agent of help and healing.  Our pray is that the Lord's people will be used to bring the gospel message both in word and in deed to those in need.

Thank you so much for your faithfulness, prayers and generous support! They are a source of continuous encouragement to us.

Blessings,

John Guido
Search and rescue teams
Clearing through the rubbish
Hundreds of homeless people sleeping outside.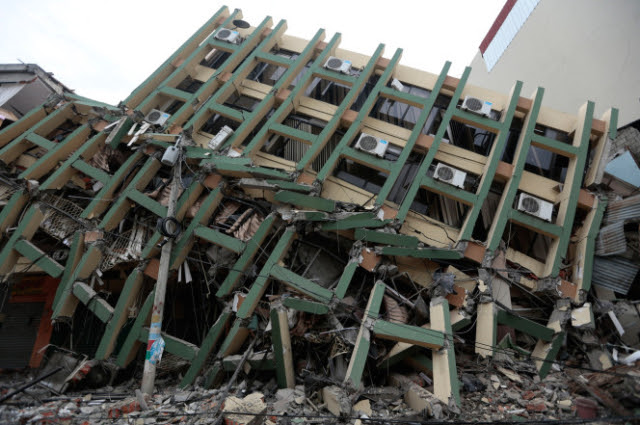 Hotel building collapsed
A portion of the coastal highway.
Hospital patients moved outside because of structural damage to the building.